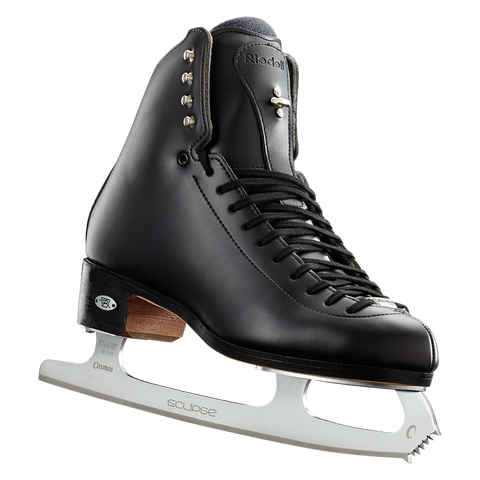 Riedell 25NB Motion Black Boot Only
Riedell Model 25 Motion: Superior Movement and Strength for Picture-Perfect Jumps and Spins!
These boots are for special order only, please allow  four (4) to six (6) weeks for delivery.
The Motion Jr. provides suitable support for single and double jumps with the advantages of leather materials that mold to the skater's foot for exceptional fit and comfort.
Designed for competitive skating, The Riedell Motion Jr. 25 (the junior model of our Motion 255 boot) is for skaters looking for great performance, with the best possible ergonomics and fit while proceeding on their path towards high-level skating. 
Inside the Motion Jr., triple layer reinforcements provide firm support and are heat moldable for perfect fit. The firm support is balanced with the comfort of EVA memory foam ankle padding, forefoot flex relief and soft moisture-wicking Dri-Lex® lining. The shock-absorbing, lightweight EVA foam midsole and leather outsole provide solid foot foundation and durability. 
The Motion Jr. is a perfect boot for a wide range of skaters, depending on the skater's size and preference of support. It provides good support for young skaters practicing their double-double combinations and even learning double Axels. It's also a very suitable boot for intermediate and novice synchro skaters, as well as adult skaters learning basic skating skills and single jumps.
The Motion Jr. is Boot only
Motion Jr. 25 Features:​ 
Leather uppers for advanced moldability and fit
Triple layer heat moldable reinforcements
EVA memory foam ankle padding for bone area comfort
Shock-absorbing lightweight EVA foam midsole
Durable leather outsole for solid foot foundation 
Forefoot flex relief for ball joint comfort and fit
Moisture-wicking Dri-Lex® lining
Anti-rotational lace bar for holding the tongue in place
Flex notch for a deep knee bend
Flex notch eyelet for extra tight fit
Hand-rolled collar