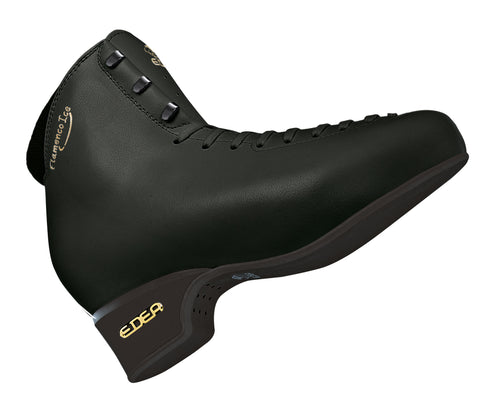 Edea Men's Flamenco Ice EFIBK Black
The Edea Flamenco ice has been designed for grace and elegance using Edea's experience, technology and the extra flexibility needed for proper toe point and knee bend.
The Flamenco Ice has been designed for grace and elegance using EDEA's experience and know-how combined with innovative thinking and modern technology. The extra flexibility and low cut in this boot gives the extra flexibility and maneuverability that Ice dancers need. This is also an excellent boot for adult skaters returning to the ice.
The MicroPerforated, MicroFibre, AirTech Lining is Anti-Allergic, Anti-Bacterial, and Dries Very Fast.
The Anatomically Shaped full Memory Foam Padding with extra tough construction
Thermoformable Structure
Rounded Heel base Shape which more evenly distributes the weight and adds torsional stability
Shaped Extra Padded Tongue, the multiple Tongue Tabs which controls the position of the tongue and keep the Tongue up in the Toe area, keeping it from sliding down
Comfortable Lo-Cut DANCE Back Cuff Padding for great pointing of the toes
Black; Sizes: 225 through 310 in 5mm Increments. 
Training Level: Synchronized skating, ice dance, singles and double jumps
Ultra-easy and fast break in period… hours, not days!
Also available in white EFI EdeaFlemenco ice
Support Level: 70.