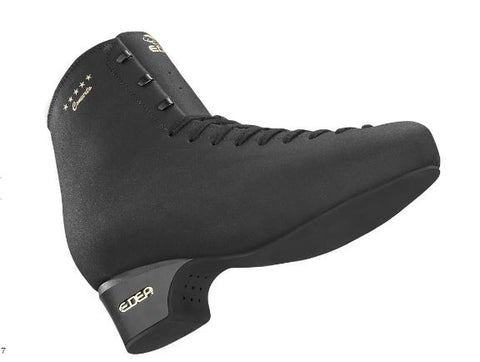 Edea Men's Concerto ECONBK Black
The Concerto controls like a classic skate boot, but is still LIGHT, DURABLE, and AMAZINGLY COMFORTABLE!
Beautiful Full Cut Leather Finish outside with perforated Leatherette MicroFibre Lining The
Anatomically Shaped Padding and Formed fit ofthe boot is shaped by the Thermoformable
Structure and provides the best in foot Contact and Control while giving the movement range to
allow great performances. The comfort, durability and easy break in make this a perfect skate for Professional tour skaters.Rigid but compressable footbed will not absorb moisture and WILL securely hold the Screws of the Ice Blades. .( Please follow EDEA mounting directions and use ONLY Edea screws)
The MicroPerforated, MicroFibre, AirTech Lining is Anti-Allergic, Anti-Bacterial, and Dries Very Fast.
The Anatomically Shaped full Memory Foam Padding with extra tough construction
Thermoformable Structure
Rounded Heel base Shape which more evenly distributes the weight and adds torsional stability
Shaped Extra Padded Tongue, the multiple Tongue Tabs which controls the position of the tongue and keep the Tongue up in the Toe area, keeping it from sliding down
Sewn in strong forged long Hooks
Black; Sizes: 210 through 310 in 5mm Increments. Full and Half Sizes for ladies
Training Level: Double, Triple, and Quad Jumps 
Ultra-easy and fast break in period… hours not days!
Also available in white ECON Edea Concerto
Support Level: 85.