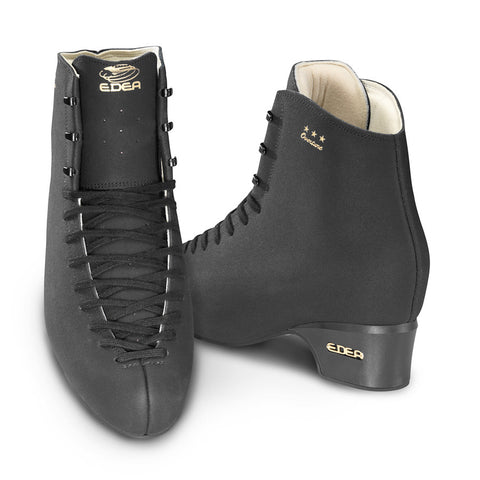 Edea Men's Overture EOVBK Black
The Edea Overture is a dramatic beginning to a perfect routine
The Edea Overture is the best selling boot of the Edea family. It offers great support and flexibility for skaters who are looking to develop and are performing basic skills single jumps and axels.The Overture benefits from the technology and know-how from our top of the range boots combining hi-tech fatures with a mid level boot.
The MicroPerforated, MicroFibre, AirTech Lining is Anti-Allergic, Anti-Bacterial, and Dries Very Fast.
The Anatomically Shaped full Memory Foam Padding with extra tough construction
Thermoformable Structure
Rounded Heel base Shape which more evenly distributes the weight and adds torsional stability
Shaped Extra Padded Tongue, the multiple Tongue Tabs which controls the position of the tongue and keep the Tongue up in the Toe area, keeping it from sliding down
Sewn in strong forged long Hooks
Black; Sizes: 195 through 310 in 5mm Increments. 
Training Level: Double jumps. Ultra-easy and fast break in period… hours not days!
Also available in white EOV Edea Overture
Support Level: 50.