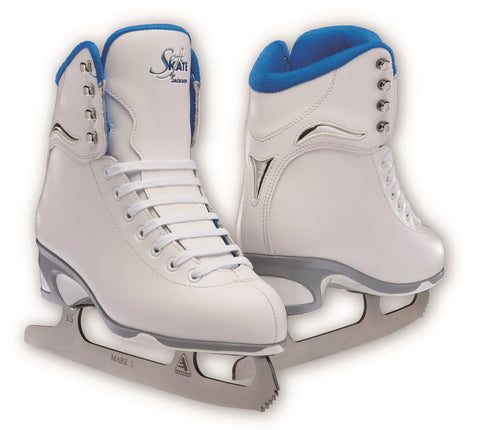 Jackson JS181 Girl's Soft skate Blue
Jackson JS181BL Softskates: Unbelievable Warmth and Comfort for the Beginner or Recreational Skater!
This is the perfect skate for the learn-to-skater who wants support and the traditional look of a figure skate with enough interior padding to provide warmth and comfort. Designed with an ultra-wide toe box for painless break in, and cozy lining, the Soft Skate is perfect for outdoor recreational skating,
Vinyl outer, JS181BL has a padded BLUE interior Also available in JS181PU (Purple), JS181PK (Pink), and JS181FL (Cream colored fleece).

Comfort and warmth of our popular Softec skates in a traditional white figure skate. Luxury comfort to start you off on the right edge.
Fashionably placed chromed insert that adds style and sophistication.
Reinforced vinyl upper with padded covered tongue and rolled padded collar gives support, warmth and comfort.
New fashionable no maintenance PVC outsoles.
New Ultima Mark I stainless steel blade is an excellent figure blade for beginners.
WHITE; Girl's Full sizes only 11J-3 
Made on a Jackson leisure last with ULTRA wide toe box
Support Level: 10.