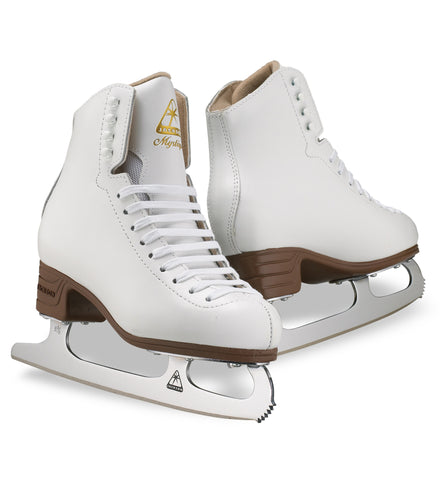 Jackson JS1490 Ladies' Mystique
Jackson Ladies'Mystique JS1490... Unsurpassed in Comfort and Stability, with an Ultima Mark II Blade, for the Beginning Skater.

The Mystique is a fantastic beginner package for the skater who is working on basic skating skills, and spins . A well-designed and quality skate with excellent support and soft interior padding, plus a basic, well-crafted Ultima Mark II entry-level blade.
Softer topline for added comfort

Synthetic lining comfortable and durable

Flex notch for added flexibility

Full quarter and extra ankle padding

Foam backed vinyl/mesh comfort tongue

Stylized PVC outsole for easy care

Ultima Mark II blade attached with screws

Ladies' Full and Half sizes 4-10, C Width in White
Also available in Black (JS1592)
Support Level: 15