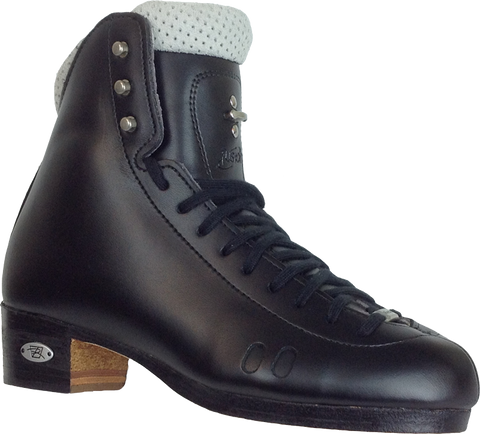 Riedell 2010 Fusion Black
Riedell 2010 Black Fusion: Combining aggressive design, lightweight construction and amazing comfort
These boots are for special order only, please allow up to four (4) weeks for delivery.
Featuring a distinctive low-cut design, Riedell Fusion boot is suitable for all figure skating disciplines.

Fusion is a boot choice for a skater in any discipline looking for maximum range of ankle motion and comfort. The 4 layer reinforcements offer extra firm support. Cork heels and leather soles pair for superior shock absorption and lightweight design. 
Perforated microfiber Strata lining wicks moisture. Pre-punched ankle area, forefoot flex relief, quilted tongue padding and low profile cushioned backstay collar provide an amazingly comfortable fit.
NOTE: Blade not included.
2010 Fusion Features:​
Leather uppers for advanced moldability and fit
4 layer heat moldable reinforcements
EVA memory foam ankle padding for bone area comfort
Cushioned low-cut backstay collar for superior range of ankle motion and comfort
Pre-punched ankle area for comfort
Forefoot flex relief for ball joint area comfort
Lightweight and shock-absorbing cork heel 
Additional layer of heat-moldable support for extra comfort 
Moisture-wicking microfiber Strata lining
Anti-rotational lace bar for holding the tongue in place
Flex notch for a deep knee bend