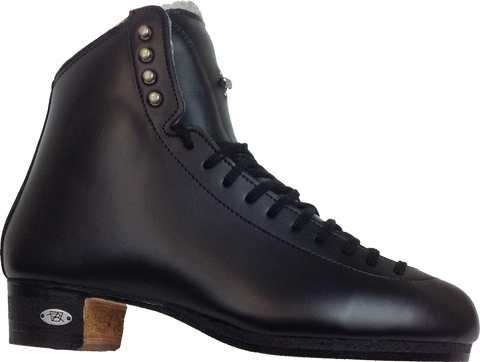 Riedell 875 Silver Star Black
Riedell 875 Silver Star: For a Dazzling Performance
The sleek Silver Star provides a suitable support for triple jumps, with the advantages of leather materials that mold to skater's foot providing an exceptionally perfect fit.
Skaters Landing tries to keep our available stock up to date, however, due to supply chain and manufacturing issues, many sizes and models are on a 4-6 week rolling back order. We suggest that you call   +1 203 542 0555 or email Info@skaterslanding.com to check the most current inventory before ordering.
Designed for competitive skating, Silver Star is for skaters looking for high-level performance, and best possible ergonomics and fit while reaching for their ambitious goals. 
Inside the Silver Star, 4 layer reinforcements provide extra firm support and are heat moldable for the perfect fit. The extra firm support is balanced with the comfort of EVA memory foam ankle padding covered with moisture-wicking and breathable microfiber Strata lining. Leather soles with cork heels offer lightweight durability and shock-absorption for landings.
Silver Star is a perfect boot for a wide range of skaters: you can jump doubles, triples and triple-triple combinations with this boot, depending on skater's size and preference of support.
NOTE:
Blade not included.
 875 Silver Star Features:​ 

Leather uppers for advanced moldability and fit
4 layer heat moldable reinforcements
EVA memory foam ankle padding for bone area comfort
Lightweight and shock-absorbing cork heel 
Moisture-wicking microfiber Strata lining
Anti-rotational lace bar for holding the tongue in place
Flex notch for a deep knee bend
Hand-rolled collar