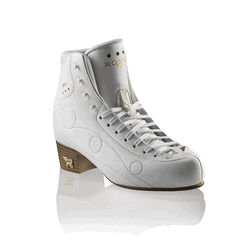 Risport Royal Pro 2
Designed for the rapidly improving mid-level skater! It's all about the doubles!
ROYAL Pro was created by Risport for the advanced instructional and mid-level competitive figure skaters with technical and aesthetic characteristics for those who want top level performance with high end features. The comfort, stability, lighter weight, low cut and attractive stitching design put the Royal at the top of the skate nobility list. New Lightweight technology, lab-tested reinforcements for greater confidence on the ice plus a softer lacing zone and special angled sole that allows skaters to achieve sharper angles of inclination make the Royal Pro the new royalty of mid-level boots. Single layer leather sole with microfiber reinforcement.
Waterproofed, Natural Italian Leather Upper with contoured ankle topline and Kevlar® Dupont reinforcements.
Padded Rear Cuff
Microfiber Lorica Lining with high perspiration-absorbing qualities.
Ventilated Preformed Padded and Stitched Tongue contoured profiles for easier bending.
Anatomical Thermo-formable Padding
Single Layer Leather Sole with microfiber reinforcement
available in White and black 
Support Level: 85.