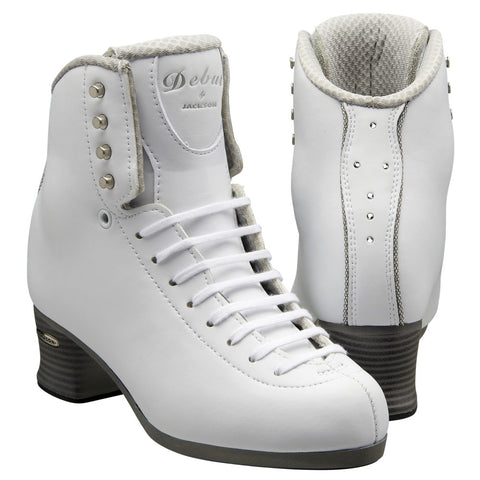 Jackson FS2451 Girl's Debut Fusion
Jackson Girl's Debut Fusion FS2451 - Girl's... The BEST of all Skating Worlds for Axels!
The Jackson Debut Fusion combines the durability and flexibility of microfiber with lightweight construction for an incredible mid-level boot. Perfect for all single jumps and an outstanding single axel boot. The best of all worlds!
Durable and lightweight Microfiber upper has remarkable flexibility, versatility and strength.

Extra wrap over instep provides better fit and security on all widths.

Eyelets behind the flex notch locks the heel in place.

Non-abrasive fabric lining makes initial fit soft and comfortable and is breathable and treated with anti-bacterial properties for odor reduction.

Rolled lining eliminates pressure and irritation on tendons above ankles.

Swarovski inlaid crystals looks stylish and elegant.

New Fusion Sole is lightweight, torque resistant; rubber inlay provides non-slip blade mount and superior shock absorption.

Reinforced heel with aluminum plates eliminates sole separation.

Girl's Full sizes (1 - 3) and Half sizes (1.5 - 3.5), in Regular (A/B) and Wide (C/D) widths.
Jackson Support Rating: Moderate
Support Level: 45