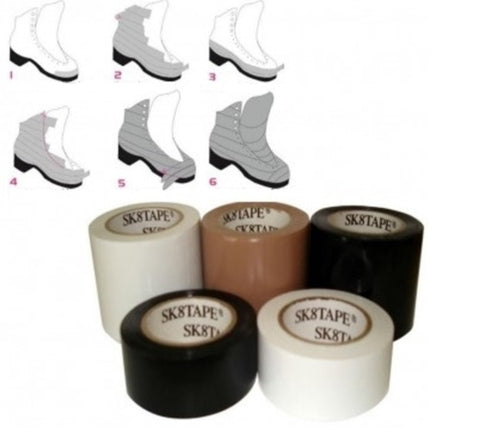 Skate Tape, Wide
Keep them looking NEW
Sk8Tape is a multi-purpose tape for you skates. -PROTECTS leather from the usual unavoidable scratches, scrapes and scuffs of skating caused by falls, lunges, partners, precision, etc.. It's

WATERPROOF, preventing boot damage and rotting from moisture. SK8TAPE ® 
STAYS ON for months when skating, yet it can be 
EASILY REMOVED only when you want it removed. 
NO STICKY RESIDUE is left behind, unlike other tapes, and it 
STRETCHES to fit securely around the curves on boots. SK8TAPE ® is 
INCONSPICUOUS and is excellent for all competitions, giving skates a fresh appearance.
Holds laces nice and tight during competitions too!